The color of the aluminium color coated sheet coil can be customized. Various colors of color coated aluminum coil are available. Samples can be used to process various colors of fluorocarbon and polyester color coated aluminum coil sheets. Colors can be adjusted according to your requirements The paint is stable and does not fall off, which can better guarantee the service life, and the thickness of the coating is uniform and there is no color difference. The performance of color-coated aluminum coil is very stable and not easy to be corroded. The forming process of coated aluminum sheet has an influence on the shape and performance of color-coated aluminum.
1. For aluminium color coated sheet coils, all the substrates will have some grease and lubricants on the surface during the production process.Of course, other substances may adhere to the transportation process. If these greases and adhesions are not removed, the aluminum plate will be affected.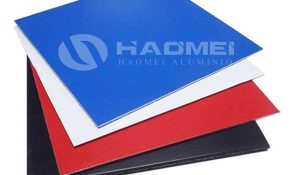 2. The clean substrate surface needs to undergo chemical treatment to generate a stable conversion film, so as to improve the corrosion resistance of the substrate and the adhesion to the coating. The substrate pre-treatment technology is accompanied by the production of coating technology, it is The service for coating technology is to lay the foundation for the preparation of excellent coatings.
3. For the color coated aluminium sheet, its coating method is the general color-coated aluminum plate coating process. According to the number of coating layers of the coating, it can be divided into three coating processes, two coating processes and single coating process. The direction of rotation of the drive roller can be divided into two processes: forward coating and reverse coating. A coating film with the required thickness and smooth appearance can be obtained.