5052 aluminum coil has been extensively applied in the building industry, especially in interior and exterior decorations. 5052 color coated aluminum coil is winning increasing popularity owing to its attractive outlook and excellent mechanical properties. As a matter of fact, surface treatment of 5052 alu coil is not singular, and there are as many as five methods.
1.Electrophoretic painting
The treatment is the most widely used in Japan. After such treatment, the appearance of the 5052 aluminum color coated aluminum coil will be lubricated and the corrosion resistance will be enhanced.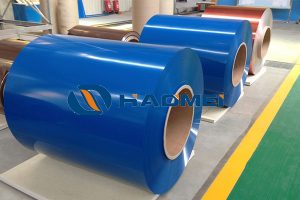 2. Powder electrostatic spraying
The main feature is to enhance the corrosion resistance of colour coated aluminium coil. For some acid-base salts, the 5052 aluminum coil is superior to the oxidized color profile.
3. Frosted fabric
The self-striped 5052 aluminum coil is very bright, but in our life, it will show disturbing highlights in the certain environment. The use of the scrub can be a good customer service defect. Its appearance is silky and smooth, and it has received favor of many people.
4. Multi-color appearance processing
The 5052 aluminum coil of traditional colors can not meet the needs of some designers any more. In order to make the coil better in integrated property, people have developed various color treatments, making the color of the 5052 aluminium more and more perfect. The most important point is that the effect is the best after processes of polishing and oxidation.
5. Plasma enhanced electrochemical appearance ceramization
This is the advanced science and technology that has been applied. The quality of the 5052 aluminum coil treated by this method is excellent. Although the cost is higher, one penny is worth the goods. In addition, 5052 aluminium of this treating method can also carry out a series of color registration.